Art
Art-Groupie 1
MUSIC MEETS ART EXHIBITION
ARTGROUPIE – MUSIC MEETS ART
AN EXHIBITION
THROUGHOUT JULY 2006
MELT GALLERY (MELT BAR)
KELLET ST, KINGS CROSS
OPENING NIGHT: THURSDAY JULY 6
INCLUDES ARTGROUPIE ALBUM LAUNCH
ON GROOVESCOOTER'S NEW dadAdA IMPRINT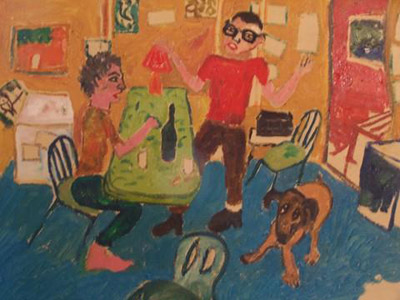 Above: Alister & Me by Philip Ricketson
Music meets art, in this fresh exhibition featuring 12 Australian artists who work in both the visual and audio realms. With works incorporating mixed media paintings, photography, drawing and silk-screens, this month long exhibit at Sydney's gallery-nightclub venue, Melt, draws on the rich tradition of musicians/producers whose vision go beyond sound.
Curated by label manager at Sydney's Groovescooter Records, Georgie Zuzak, the show is also the launch for Groovescooter's new da dAdA imprint, with each exhibiting artist also contributing a track to a limited edition hand-crafted CD which will be for sale on the opening night as a take-home memento.
Artists include Tony Dupe (Saddleback), Martin Kennedy (All India Radio), Rick Bull (Deepchild), David Kagan (The Dub Dentist), Alex Crowfoot (Ollo), Peter Pasqual (Creative Vibes /Yum Cha Sessions), Adrian Elmer & David Hughes (Telafonica), Justin Cooper (Cus1), Don Meers, Philip Ricketson (The Hoo Haas) and Georgie Zuzak (Groovescooter).
Images, whether those yet to be downloaded from the imagination, or those found in film, books, paintings, architecture and nature, have long provided inspiration for songwriters and sound sculptures. Numerous producers first visualise their pieces before laying fingers to a keyboard, no matter if that keyboard is attached to a piano or a computer. Interestingly, it's often these images and the ones dictated by lyrics or the listener's own imagination, which give music a further dimension. In this unique exhibition, visitors will get to experience what comes forth from music makers when they decide to pick up a paint brush or camera rather than turning to their instrument of choice. It represents work from both artists who have been working in the visual arena for many years or those sharing their visions here for the first time. Some of the featured artists have turned to visual art as a new creative deviation having worked as musicians for some time, whilst others were originally painters, photographers or graphic designers who discovered the freedom of music later in life. Without exception, all are unique and inventive in both their chosen fields, regardless of their desire to continue creating as audio-visualists, or giving in to the urge to pursue one over the other.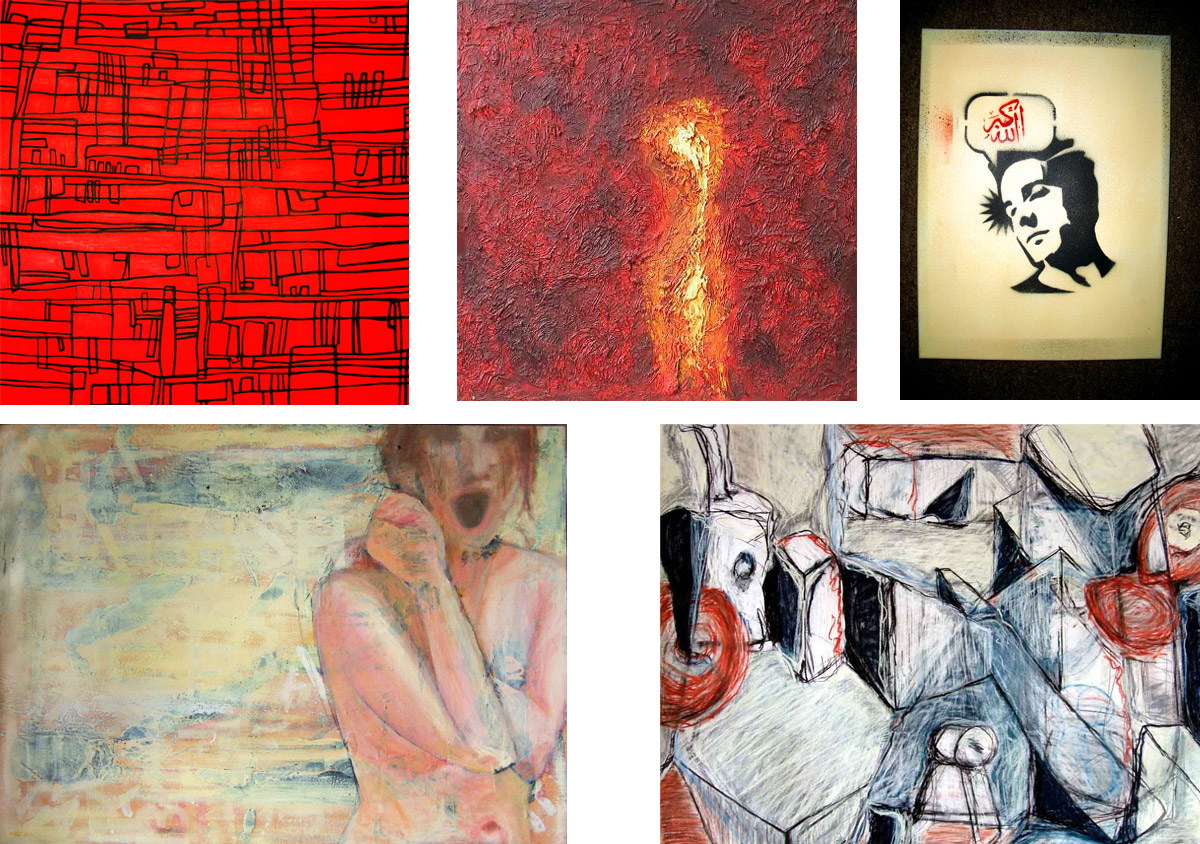 Above: A selection of works from ArtGroupie 2006 [Clockwise from top-left]: Untitled by GEORGIE ZUZAK (Groovescooter), Abstract Person by MARTIN KENNEDY (All India Radio/Pray TV), Self Portrait by RICK BULL (Deepchild), Untitled by JUSTIN COOPER (CUS1), Bathsheba by ADRIAN ELMER (TELAFONICA)