Art
Art-Groupie 2
Art Exhibition & Album
ARTGROUPIE 
AN EXHIBITION OF VISUAL ART BY MUSICIANS
23-28 SEPTEMBER 2008
THE TAP GALLERY
LEVEL 1, 278 PALMER ST
DARLINGHURST
LAUNCH PARTY
6PM FRIDAY SEPTEMBER 26
LIVE MUSIC BY ALL INDIA RADIO + STEVE KILBEY
COMPLIMENTARY DRINKS + FREE ARTGROUPIE CD
NOTE: EVENT WILL BE FILMED BY MTV
PRESENTED BY GROOVESCOOTER
PART OF THE ANODE FESTIVAL
Groovescooter Records' da dAdA imprint presents the return of ArtGroupie – a series of collective art exhibitions featuring musicians, producers/DJs and vocalists who also work as visual artists.
Artists contributing visual works this year include Mick Turner (Dirty Three), Ben Ely (Regurgitator), All India Radio, Deprogram, Toydeath, Ollo, Amanda Stewart (Machines For Making Sense), Nicola Schultz, Heidi Elva, Peret Mako, Steve Kilbey (The Church), iOTA, The Hoo-Haas and many more. All original artworks are for sale on the night and span oil paintings to photography and an interactive sound-sculpture.
Available at the exhibition's Launch Party for free, are also two companion memento CDs featuring tracks (some exclusive) as well as remixes by artists exhibiting. Packaged in hand stamped + painted, 100% post-consumer recycled digi-packs.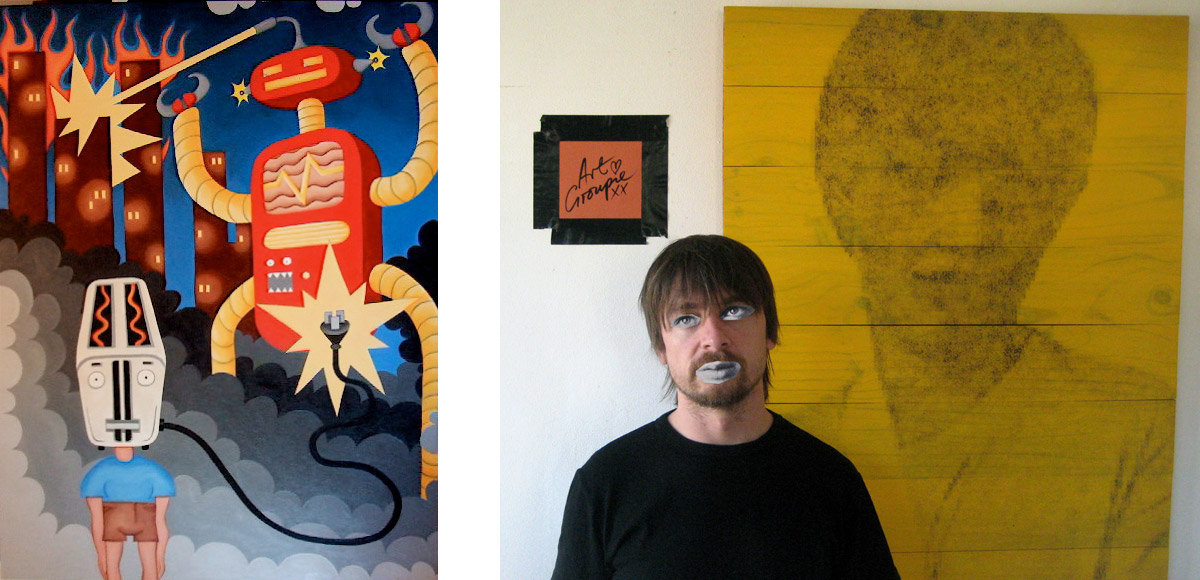 Above: [L – PART OF LARGER POLYPTCH] TOASTER BOY DREAMS TO BECOME A ROBOT by BEN ELY (REGURGITATOR), [R] OLLO'S ALEX CROWFOOT WITH BOY.
Above: [L] DISCONNECTED by MARTIN KENNEDY (ALL INDIA RADIO), [R] RICKI MAYMI by STEVE KILBEY (THE CHURCH)
Above: UNTITLED by MICK TURNER (DIRTY THREE)
Above: TOGETHER AGAIN by JUSTIN COOPER (CUS1)
Above: [R] FROM LEVEL 29 (detail) by GEORGIE ZUZAK (GROOVESCOOTER)
Above: OPENING NIGHT (professional photographers we ain't)