Various / Mixed 2-CD
ARTGROUPIE VOL 2
VARIOUS
ArtGroupie Vol 2 [2xCD-Mixed ]
Double Companion Compilation to Groovescooter's Second Group Art Exhibition by music makers
Limited edition companion release to Groovescooter's 2nd group art exhibition held in 2008, this mixed music journey across 2 CDs comes in hand-made and painted sleeves, inserts, translucent overlays and hand-stamped unique sexy-black (data-side) CD-Rs.
ArtGroupie – is an exhibition series with collectable CD displaying artworks from musicians/DJs/producers who also work in various visual art forms. This second exhibition was housed at Tap Gallery in September 2008 as part of the Anode Festival, launching with a live performance from The Church's Steve Kilbey and All India Radio. The place was so hot and rammed on opening night, even the MTV crew were wondering if they'd get in to the gallery… they did. On display and sale were paintings, drawings, photos and even an interactive audio sculpture (see examples below) from around 30 musicians/artists. Most of the artists involved were also represented with tracks on this 2 memento albums, available on opening night or by mail order from us.
LIST OF ARTISTS
Ben Ely – Regurgitator
iOTA
Mick Turner – Dirty Three
Amanda Stewart – Machines For Making Sense
Steve Kilbey – The Church
Rachael Chaos – Cherry2000
Peret Mako
Nick Wishart – ToyDeath
Alex Crowfoot – OllO
Robert Jarvis – Zeal
Georgie Zuzak – Groovescooter/Mothloop
Martin Kennedy – All India Radio
Nicola Schultz
Philip Ricketson – The Hoo-Haas
Darrell Archer – Night Radio
Amanda Cole
Caroline Kennedy-McCracken – Tulips/Deadstar
Mary Budimir – Deprogram
Heidi Elva
Arthur Karanikas – Volume=Colour
Kristofir
Adrian Elmer + David Hughes – Telafonica
Matthew Syres – Forenzics
Sam Haycroft Sydonia
David Kagan Dub Dentist
Melanie Horsnell
Simon Lovelace Danger of Death
Justin Cooper


[clockwise from top left: 'untitled' Mick Turner; 'Ricki Maymi' Steve Kilbey;
'Toaster Boy Dreams To Become A Destroyer Robot' Ben Ely; 'Together Again' Justin Cooper]
MEDIA RELEASE
Art Groupie – An Exhibition of Visual Art by 29 Musicians
Groovescooter Records' da dAdA imprint presents the return of ART GROUPIE – a series of collective art exhibitions featuring musicians, producers/DJs and
vocalists who also work as visual artists – now part of the ANODE festival.
After a great response to our 2006 event, in 2008 we've doubled the number of exhibiting artists and widened the scope from paintings and photography, to now also showcase collage, mixed-media pieces and sculpture. There's even an interactive installation – wait till you get your hands on the suspension wires of electronics whiz kid Nick Wishart's (ToyDeath) 'musical bridge' model! From evocative photos to oils on canvas, psychedelic pastels/gouache and more, the breadth of what these musos create when not recording or touring, will surprise. It may also surprise you to discover that while many of these musicians are well known for their melodic output, a passion for art means their visual works also feature in collections the world over.
When: Sept 23 – 28 2008
Launch Party: Friday Sept 26th
with All India Radio + Steve Kilbey live
Where: Tap Gallery, level 1, 278 Palmer St,
Darlinghurst Sydney
Part of  THE ANODE FESTIVAL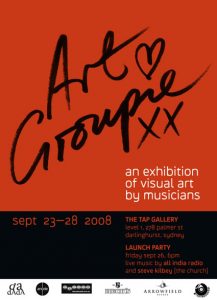 above: Alex Crowfoot with 'Thieves Like Us'

above: 'Disconnected' by Martin Kennedy